On the occasion of International Women's day on the 8th of March and Family day on the 21st of March, Trust of programs in the villages of Northwest of Jerusalem in collaboration with Al Jeeb school organized on the 12th of March 2018 a visit to Monastery of Franciscan fathers in Al Qubeibah.
The day started with a scout show by the scout squad of Al Jeeb school, followed by a musical show presented by the clown using rhythmic moves and playing national and folkloric songs.
Learn by play tutors have participated in the day by presenting the artistry show. At the end of the day, the school students gave a flower to each elderly in the Monastery as a symbol of appreciation and admiration for the grandmothers.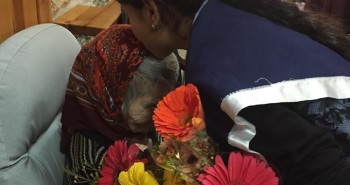 This comes in order to enhance and instill the educational and social values among the students and to appreciate the role of the grandmothers and consolidate the social  solidarity of the Palestinian society.